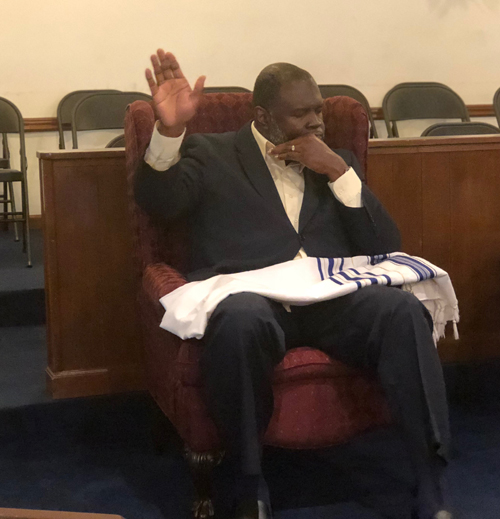 Apostle Anthony Roper
Apostle Anthony Roper, along with his wife Prophetess Antoinette Roper, is the Overseer and Pastor of Unity of Faith Covenant Ministries International located in Swan Quarter, North Carolina. As the visionary leader of this ministry, Apostle Roper is committed to the full development of every "ambassador" into mature Kingdom Citizens. He is known as "a man after God's own heart," a preacher's preacher, a servant leader that loves to teach the Word and sing praises unto the Lord.

Apostle Roper graduated from North Carolina State University in Raleigh, North Carolina in May 1989 where he received a Bachelor of Science in Civil Engineering. He was employed by the North Carolina Department of Transportation for more than 28 years in various roles including Deputy Secretary and Division Engineer until his early retirement in March 2017. Apostle Roper is a NC Registered Professional Engineer, a Certified Public Manager and was bestowed The Old North State Award "for dedication and service beyond expectation and excellence" upon his retirement. He currently works as a consulting engineer.

In addition to his professional career, Apostle Roper has always been determined to be a leader and contributor in the community and various causes. Currently, he services as Board Chairman of Brotherly Love, Inc., serves as a co-Director for Hyde County Project Direct Legacy for Men and Their Families, and is an active participant in the Hyde County Ministerial Council for Education.

A native of Hyde County, Apostle Roper is the son of Minister Mattie Roper and the late Deacon Wilbert Roper. His mother often talks about how she knew God had a call on his life even in the womb and how she dedicated him to God at birth. He was raised in Piney Grove Church of Christ Disciples of Christ (later known as Greater Piney Grove Church, Inc.). As a youth, he served as a church usher and was an active participant in Sunday School. In September 1995, he earnestly accepted Jesus Christ as his personal Savior and returned to faithfully serving in Piney Grove. He served as a Sunday School Teacher, Trustee and Deacon. In November 1999, he preached his initial sermon and was an Associate Minister under the tutelage of Elder Willie Werts until he was ordained as an Elder in March 2003. In August 2004, he became the Pastor of Greater Piney Grove Church of Christ, Inc.

As Pastor, he led Greater Piney Grove through the construction of its new church facility (completed in 2008), instituted leadership development training for GPG Pillars, began the radio ministry "Living in the Word with Elder Anthony Roper" and established the church as a welcoming fellowship that intentionally reaches into the community particularly the schools and the elderly.

In spite "successes" as a church and Pastor, God always has purpose and plans beyond our imagination. In 2014, through the inspiration and leading of his wife, Pastor Roper formally met Chief Apostle DD Taylor-Warner and Apostle Kevyl Warner of Deliverance Crew Ministries, Inc. "Apostle DD" is an anointed, powerful vessel that challenged, nurtured, pushed and birthed additional gifts from the Pastor. In September 2015, Pastor Roper was affirmed as Apostle Anthony Roper by Chief Apostle DD Taylor-Warner. Apostle Roper affectionately refers to Chief Apostle as "Mama DD" for her unwavering support, loyalty, listening ear but most importantly her vigilant covering and intercession!

Knowing that God always aligns names with purpose, Apostle Roper renamed and transitioned Greater Piney Grove Church, Inc. to Unity of Faith Covenant Ministries International in January 2018. UFCMI functions as a five-fold ministry that has a simple mission: Love God, Love People, Make Disciples! Under the leadership of Apostle Roper, UFCMI is prepared to forge into the future as a Kingdom Church were many will be healed, delivered and set free to fulfil their God ordained purpose and destiny!

Apostle Roper is married to Prophetess Antoinette Roper. They have three children: Cierra, Antonia and Gesner.